We're back. We know you missed us!
Emory Homecoming 2021 is back on campus. This year, it's bigger and better than ever. Join us for events and entertainment for the whole family! Plus, we'll kick off Emory's movement to rethink and reshape the future. With an eye on Emory's bicentennial, 2O36 inspires investment in people for the benefit of people, bringing the Emory community together to build on our mission to serve humanity through knowledge.
The Homecoming Festival and Concert this year will be decked out with food trucks, a beer garden, interactive hubs, sporting events, tours, exhibits, and more. You'll learn about the inspiring work of brilliant faculty and bright students; experience a multi-sensory live podcast; and even share your own hopes for our future. Bring friends and family along, and we'll take care of the rest. View the festival map to plan your stops around The Quad.
Below are some highlights for the weekend, but you view the full schedule on our registration site.
// Kick back and jam out //
Homecoming Festival and Concert
HEADLINER
Saturday, October 23 | 4:30 PM
A Grammy-nominated act described as "Wu-Tang Clan meets James Brown," Black Pumas has songs that have racked up millions of streams and won overwhelming critical praise and multiple sold-out tours across North America and Europe. You won't want to miss this performance!
SPECIAL GUEST
Lennon Stella
Saturday, October 23 | 3:30 PM
You may recognize this Canadian singer and actress from the musical-drama series Nashville where she portrayed Maddie Conrad. Her debut studio album Three. Two. One. was release in 2020.
Now is your chance to have a front row seat to sway to her chill vibes and thumpin' synth-pop sound. 
// music to your ears //
Get in the Groove
Whether you're walking through the Quad, enjoying 2O36 interactive hubs, or grabbing a bite to eat, you'll hear music wherever you are. These musical acts will get the party going on Saturday, October 23.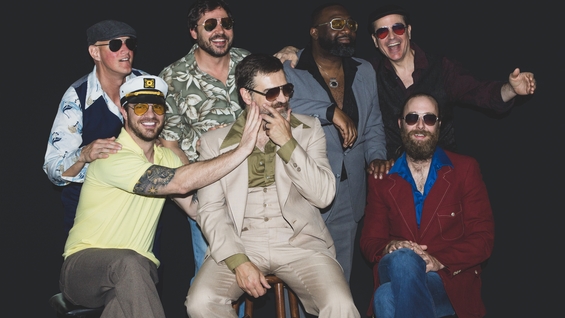 smooth rock on the high seas ⚓︎
Yacht Rock Schooner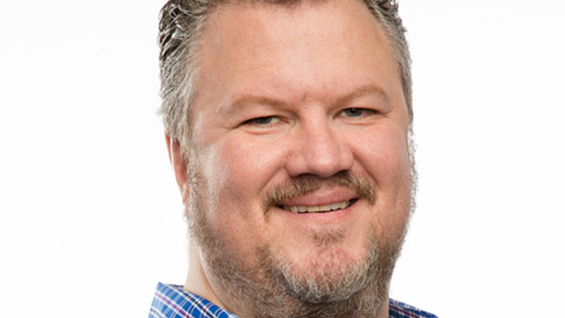 dj with today's hits 🎛
Tommy Owen, The Bert Show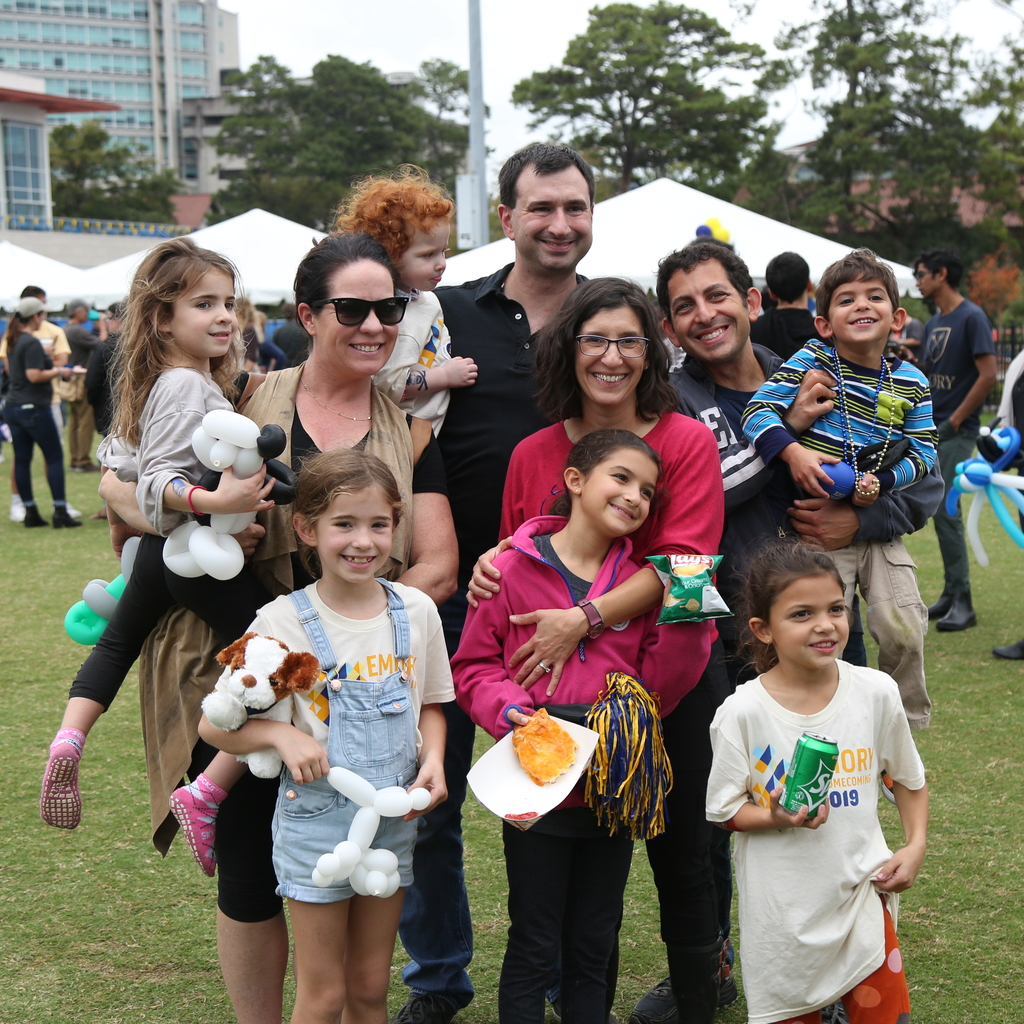 Make your first stop on Saturday at the registration tent located on the Quad to sign-in and grab your Emory Homecoming T-shirt and other giveaways. Saturday's festival will be a party for the whole family, including a bounce house, bungee jump, balloon artists, face painters, corn hole, giant checkers, Jenga, and Connect Four, and even an area for the younger ones. 
Don't forget the Homecoming Parade scheduled for 2 p.m. featuring Atlanta Hawks drumline ATLBoom and MLK High School drumline as well as groups from across campus. The map below shares the route as well as where the tents and booths will be setup throughout the Quad.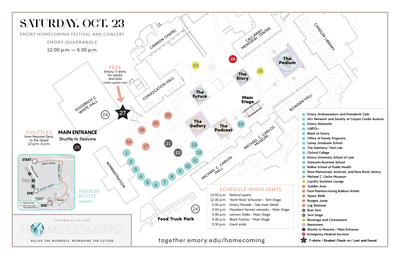 While you're here, join the Hatchery to help us build a time machine by rapidly prototyping what an ideal Emory will look like in 2036. There will be games and prizes for innovators who help us create Emory's future.
The Tech Lab booth, Emory Libraries' Makerspace and emerging technologies lab on campus, will showcase its various tools for Emory's innovators and creatives. Visitors can design their own buttons, play with made-in-TechLab gadgets, and explore 3D printing, a photobooth, and more.
Family-friendly activities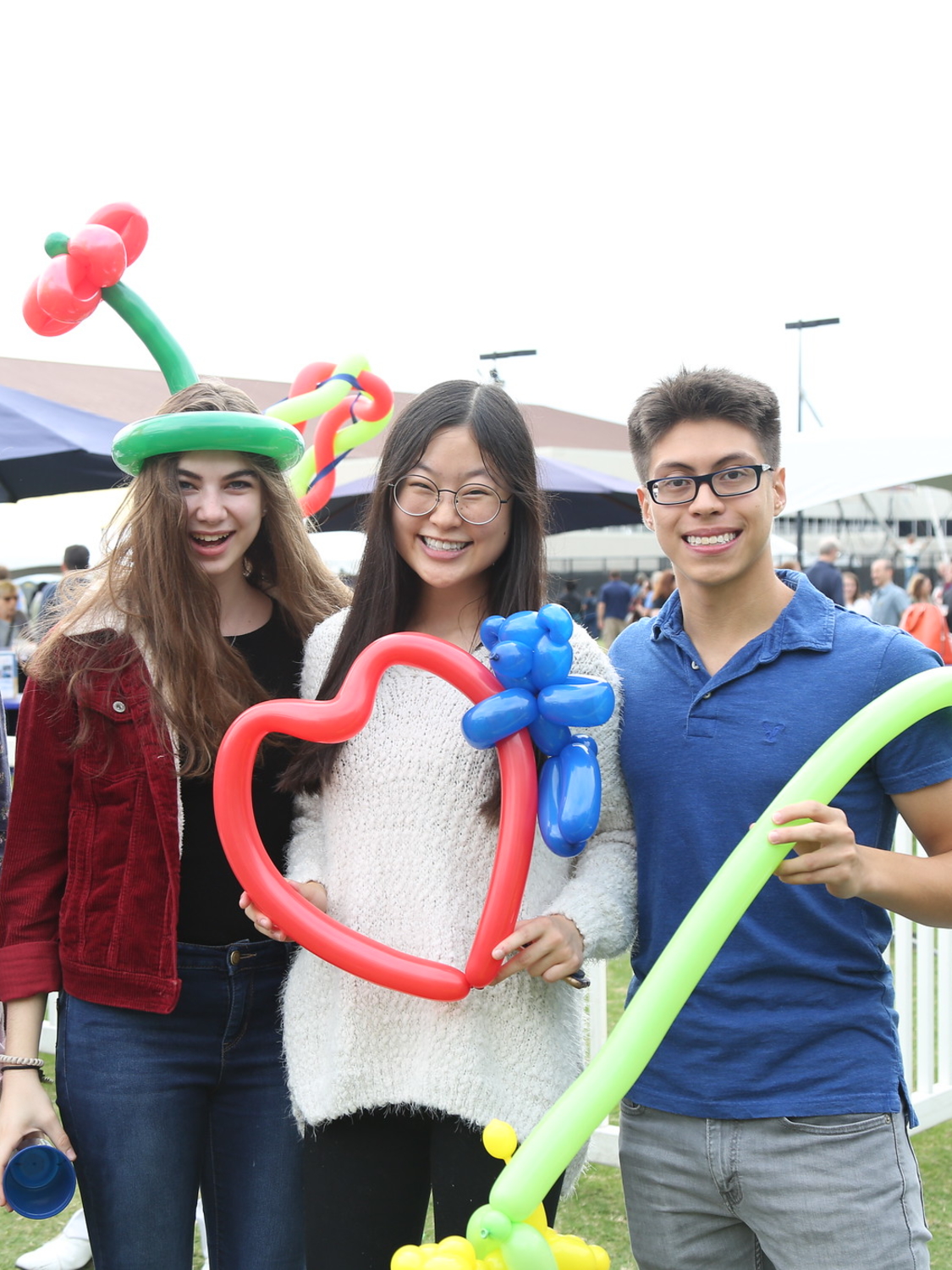 // reunite with classmates //
Class Reunions and Special Events
We are celebrating two years of milestone reunion classes on Friday evening for Emory College of Arts and Sciences and Goizueta Business School (BBA) alumni. If you are in or around any of the below class years, invite some friends and join us on The Quad at 7 p.m.
2016, 2015, 2011, 2010, 2001, 2000, 1996, 1995, 1991, 1990, 1981, and 1980
Friday, October 22
Goizueta MBA Reunion KEGS
Friday, October 22
Emory Atlanta Networks Reunion
Friday, October 22
College and BBA Reunions
Saturday, October 23
Voices of Inner Strength Gospel Choir Reunion
Saturday, October 23
School of Medicine Reunion
Sunday, October 24
Legacy Pinning Ceremonies
On the Quad
We will host affinity groups to help you reconnect with old friends and find new ones. Find one (or five) that interest you!
Black at Emory 

Emory 60+ Network/Society of Corpus Cordis Aureum 

Emory Ambassadors/President's Club 

Emory LGBTQ+ Network 

Oxford College 

Parents 

Michael C. Carlos Museum 

Regional networks 

Laney Graduate School  

Emory Law  

Rollins School of Public Health

Goizueta Business School

Emory University Archives/Rose Library 

The Hatchery and Tech Lab Makerspace

Wise Heart, 1836, and Consecutive Giving Societies
The Future Starts Now
2O36 inspires investment in people for the benefit of people, bringing the Emory community together to build on our mission to serve humanity through knowledge. With an eye on Emory's bicentennial, 2O36 will spearhead a movement to radically rethink and reshape the future.
We'll have interactive domes setup around The Quad on Saturday for you to participate in multi-sensory experiences such as galleries featuring the work of students, faculty, and staff as well as a living installation for you to share how Emory will benefit humanity in 2036.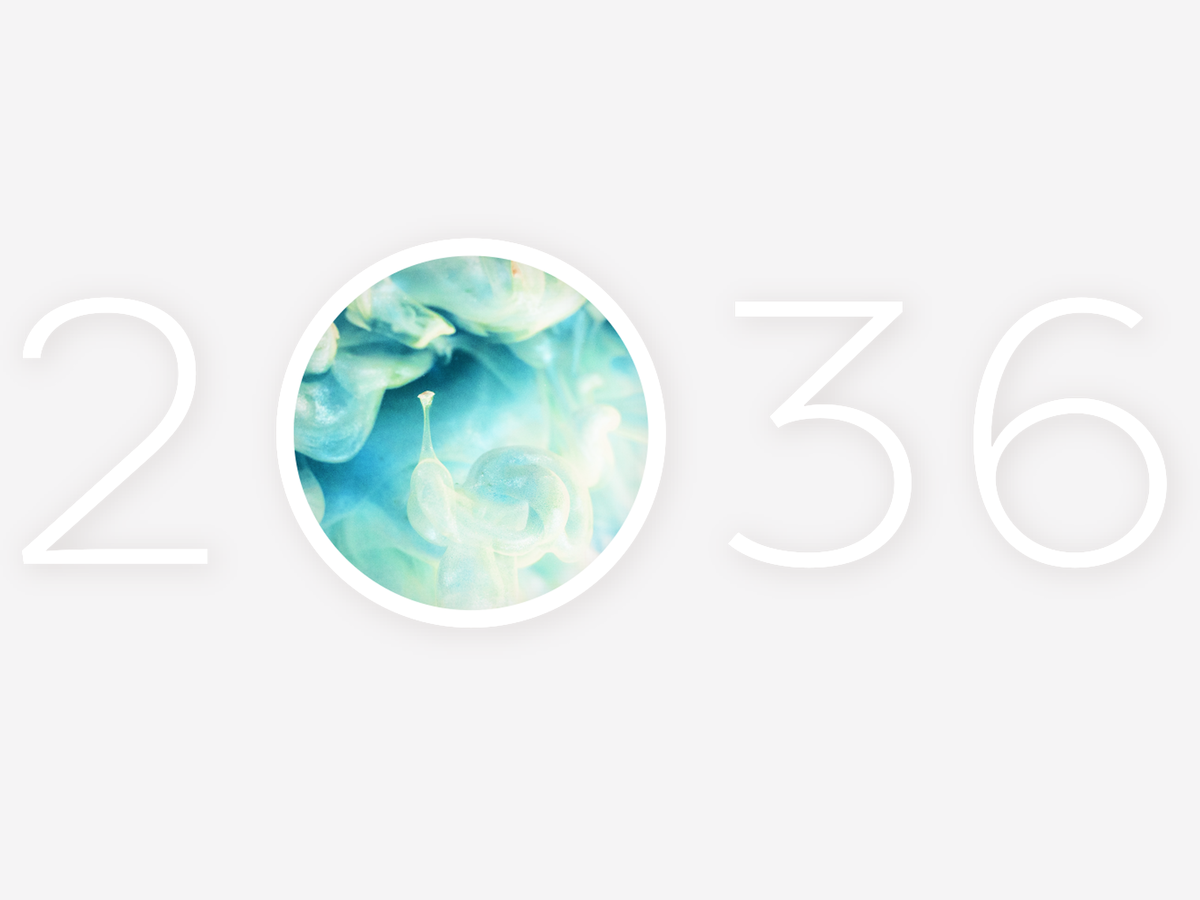 // stroll around campus //
Campus Tours, Exhibits, and Athletic Events
Take a walk around campus to see what's new or swing by the exhibitions at Robert Woodruff Library. Don't forget to take a look at the new exhibits at the Michael C. Carlos Museum–alumni receive a 10% discount on membership, and graduates of the current calendar year receive a one-year complimentary membership. 
Register now
Friday, October 22
Women's Soccer: Eagles vs. Roanoke College
Saturday, October 23
Emory Homecoming 5K (Registration is closed)
Saturday, October 23
Campus Tour, led by Admissions
Saturday, October 23
Art and Architecture Tour, led Gary Hauk, hosted by the Emory Alumni Creative Network
Saturday, October 23
Open House at the James Weldon Johnson Institute for the Study of Race and Difference
Saturday, October 23
Graffiti, Dracula, Apollo 15, Pellom McDaniels III
Saturday, October 23
Michael C. Carlos Museum Exhibitions on View and Docents in the Galleries
Additional Information
Whether you're looking for a nearby hotel or other ways to get involved, we have resources just for you! Take a look at the full schedule of events that is happening throughout Emory Homecoming weekend.