2019 AWARD RECIPIENT

Marjorie (Marge) Hart Anderson 62C 80A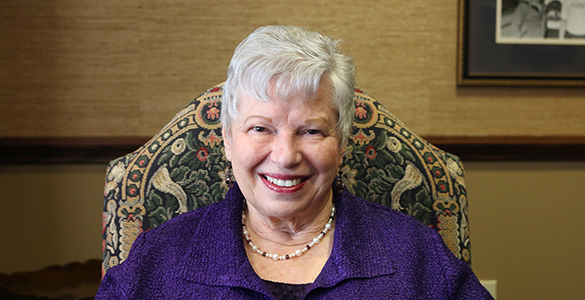 It's been more than half a century since Marge Anderson arrived by train at the Emory campus for a pre-college interview, but she's been enamored with Emory ever since. "I just had a wonderful time and fell in love with Emory right then," says Anderson, "the very minute I got here."
Anderson, a New Jersey native, moved all across the United States with her family until entering Emory College in 1958, earning a BA in biology. It was hard work, but make no mistake, she had her share of fun. "Between biology classes, there were just so many wonderful friends," says Anderson, including a lifelong affiliation with Kappa Alpha Theta.
In a time when women were not regulars in post-graduate classes, Anderson was somewhat of a pioneer, earning certifications as a Medical Technologist in 1963 at El Camino Hospital in Mountain View, California, a Master's in Secondary Science Education at Georgia State in 1974, and then a Bachelor's of Medical Science in 1980, at what is now called the Physician Assistant Division of Emory University School of Medicine.
After graduation that December, Anderson applied for exactly one job.  "I came back to work here," she says, having spent the rest of her working life in ophthalmology, surgical oncology, and general surgery. "Emory was my home away from home."
Always heavily involved with her class reunions and Kappa Alpha Theta over the years, Anderson retired in 2006 and spends her time as an active volunteer both at Emory and out in her community. She currently serves on the Emory College Alumni Board. "I have to roll off this year and I can't stand it because I'm just absolutely in love with coming back to Emory," she says. "I love to meet all the people in the different classes, and everyone is so talented."
As Anderson meets students, she also mentors them and provides a scholarship in memory of her sister who died in a car accident seven years ago. "It's the Sandra Ruth Hart Marjorie Hart Anderson scholarship," Anderson says. "It's a general one, and thus far I've had five students go through, three of whom are still in school." She also supports and serves on the steering committee of the Physician Assistant Studies Program at Presbyterian College.
Out in the community, Anderson is an avid square dancer and an active member of Peachtree Presbyterian Church in Atlanta where she volunteers with local mission projects and has taken international mission trips to Costa Rica and Egypt.  She also volunteers in the Choir Music Library. She is involved in Presbyterian Women, which helps support Days for Girls, an organization in Malawi that provides personal necessities so girls can attend schools, and also plans to help provide sewing machines.  She is a member of the Junior League of Atlanta, focusing on projects supporting inner city children.  
But Emory is closest to her heart. "It's just a special place," says Anderson. "I always really look forward to seeing my classmates again. I love what Emory did and I love what Emory stands for. There's warmth there. And it's my home, too."