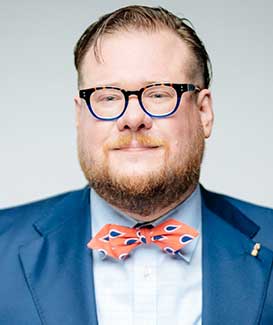 CEO and Co-Founder | Hazel Technologies, Inc. | Chicago, IL
Aidan Mouat is the CEO and co-founder of Hazel Technologies, Inc., a Chicago-based agriscience company dedicated to extending the shelf life of fruits, vegetables, flowers, and plants through responsible, sustainable chemistry products. An expert in sustainable and agricultural chemistry as well as food production and supply chains, Mouat has been named to Grist 50 Fixer, Crain's Chicago's 40 Under 40, and Chicago Inno's 50 on Fire lists.
Mouat is an advisory board member for both Lilac Solutions and the Farley Center for Entrepreneurship and Innovation at Northwestern University. He is an ardent supporter of organizations that advocate closing the gender and privilege gaps in STEM and hard tech entrepreneurship.
Mouat completed undergraduate studies and a master's degree in chemistry at Emory before earning a PhD in chemistry from Northwestern University. While at Emory, he studied poetry with US Poet Laureate Natasha Trethewey, participated in Theater at Emory, and served on the College Council. His broad range of experiences and interdisciplinary studies at Emory have been integral to his life, work, and interests.
"Emory has been foundational to my life. I grew up on campus, as my father was a professor. I also came of age on campus, furthering my love of chemistry, exploring the arts, and making lifelong friendships. I tried to take advantage of everything Emory had to offer, and I am very glad I did."