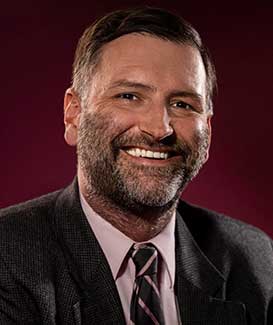 Associate Professor | Associate Director | School of Criminology and Criminal Justice, Arizona State University | Phoenix, Arizona
When Cody Telep arrived at Emory as an undergraduate, his understanding of what faculty members did was limited to teaching in the classroom. And for the most part, that tracked. As a sociology and political science major, he experienced engaging lectures and invigorating discussions. But it was through his mentors that he began to see how faculty members are not only teachers but also scholars who conduct innovative research. Insights from courses on how government works on crime and justice issues inspired him to explore this path and attend graduate school in criminology.
Telep started teaching at Arizona State University in 2013 and is now an associate professor and associate director of the School of Criminology and Criminal Justice. He loves teaching and mentoring. And he is passionate about the part of the job he didn't understand when he got to Emory—partnering with communities and police agencies on research to enhance fairness and effectiveness. He views this work as crucial for advancing evidence-based reform efforts that can transform policing and create safer communities.
"Emory played a major role in my success. I feel incredibly fortunate to have worked with great faculty in the Departments of Sociology and Political Science who opened my eyes to new ways of thinking about government and the criminal justice system. I still refer back to notes I took in undergraduate classes in thinking about the research I do today. I learned so much from faculty in both of these programs, and especially am thankful for the guidance of Professor Bob Agnew in sociology, who provided me so much good advice about applying to graduate school and gave me an incredible grounding in criminological theory and practice. Professor Michael Leo Owens was also an amazing mentor, and his enthusiasm and passion for using research to better understand and improve communities was contagious."