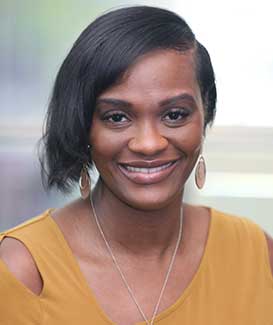 Physician-Scientist | Medical Director of Diversity & Inclusion | Henry Ford Health | Detroit, MI
Martina Caldwell strives to make "good trouble," creating transformational change toward health justice through collaborative and courageous processes rooted in anti-oppression. Many of the skills she uses today were nurtured during her time at Emory as a women's studies major. This academic path exposed her to diverse thinkers, theories, and social justice leaders. Her studies also enabled her to immerse herself in experiences that taught her about power and privilege, truth and reconciliation, and community healing.
After graduation, Caldwell attended Yale School of Medicine and went on to the University of Michigan, where she was a chief emergency medicine resident and completed the Robert Wood Johnson Foundation Clinical Scholars Program. These experiences have enabled her to have a purposeful and rich career as an emergency medicine physician, health equity researcher, and justice, equity, diversity, and inclusion executive leader.
"Emory helped me lean into my own uniqueness and harness my gifts and interests to be of service to others. Emory opened a world of possibilities to me through the brilliant educators who shared their knowledge, dynamic leaders who shared their wisdom, and energetic students who shared their passion. Emory also revealed my limits and showed me that I could overcome adversity. All of these exposures are foundational to my professional and personal being today."