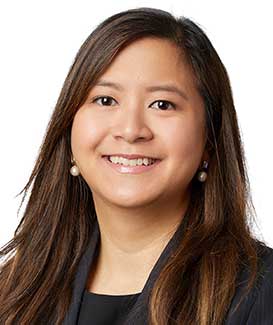 Principal | TPG | New York, NY
When Pamela Hanafi arrived on the Emory campus in 2004 from her home country of Indonesia, she had never even visited Atlanta before. Navigating this major change became part of her education. While earning a bachelor's in psychology, she also took classes at Goizueta Business School and discovered a passion for finance. She now has a master's degree in international economics and finance from Brandeis International Business School.
Hanafi has spent the last decade honing her skills as a private equity secondaries investor, buying and selling preexisting investor commitments to private equity and other alternative investment funds. In 2021, Hanafi joined TPG, a leading private equity firm, as a principal. She is a member of the Next Gen Leaders for Secondaries: Class 2021, a list of rising stars in the field under 36. She is also the co-founder and a board member of Women in Secondaries, a nonprofit that supports, elevates, and promotes women in the industry.
"Growing up 10,000+ miles away from Atlanta, Emory was a big adjustment for me. However, it was a valuable one. My Emory experience taught me to embrace change and to challenge myself, making me more resilient. Emory created a strong foundation for my professional journey."