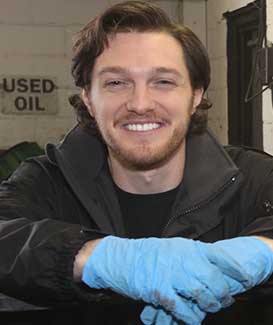 Founder/Co-Founder | Scotty's Recycling/Veriflux | Chappaqua, NY
Scott Bernard founded his first company, Scotty's Recycling, in the waste-to-energy space. Here, he designed and built facilities to efficiently process waste fats, oils, and greases. Bernard developed and refined proprietary processes that allowed him to grow his business internationally. His work has led to hundreds of millions of gallons of waste oils being recycled—diverted from landfills to be used in the production of low carbon renewable fuels.
Bernard also co-founded Veriflux, a clean-tech software company focused on bringing traceability, transparency, and efficiency to waste-to-energy supply chains. Veriflux was awarded an Environmental Protection Agency small business innovation contract and recently was selected by New York City for use in a groundbreaking waste-to-energy pilot program. For Bernard, combining business success with the ability to create a cleaner and healthier planet for future generations is rewarding.
"Attending Emory helped shape me into the person I am today. My Emory experience set me up with the knowledge and tools needed to create my own businesses. Emory also introduced me to my best friend and business partner, without whom I would not be where I am today."
Scott Bernard 09B intended to work in finance, but fate intervened. A college internship at Bear Stearns fell through following that company's collapse during the financial crisis. Not long after he graduated, Bernard had routine knee surgery, but ended up bed-ridden for months with a life-threatening MRSA infection.
With time on his hands, Bernard began to explore an emerging industry where he could employ his passion for business and entrepreneurship: the waste-to-energy sector.
Bernard founded his own company, Scotty's Recycling. The company designs and deploys innovative engineering solutions to extract fats, oils, and grease from waste streams and converts them into renewable energy. "We build the factory, bring in the equipment, extract the waste for recycling, and split the profits," he explained.
As his business grew, Bernard identified additional opportunities in the waste-to-energy space. This led to the launch of Veriflux, his second company. Veriflux is an EPA-funded software platform that allows companies to track their renewable fuel supply chains to meet federal and state traceability requirements. "We built out the software platform to help ourselves, but we realized it had larger potential in the industry," Bernard said.
Although his career took a far different path than he expected, Bernard said Emory prepared him well. "I took courses in business law, I studied finance, and I learned about contracts—all of that was relevant." His college roommate, Daniel Charles, became his business partner—and the best man at his wedding—while another Emory grad, Brian Sobel, also came on board. "Three Emory grads created Veriflux, and I think that's significant."