Special podcast features Carol Anderson
A three-part special edition of 2O36: The Podcast features Carol Anderson, Charles Howard Candler Professor of African American Studies, in conversation with Emory Alumni Board President Munir Meghjani 08Ox 10C. Listen as Anderson examines America's long struggle for race and social justice and how the hunt for knowledge can help us understand the complexities of our democracy.
Listen now
One student's creative path to law school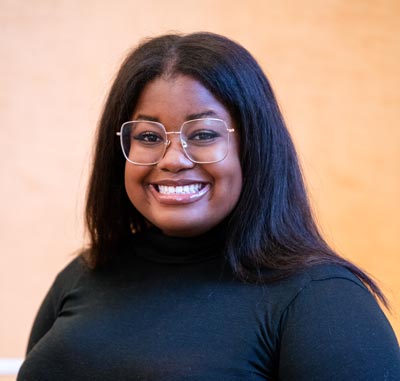 For Drew Beaty 24L, the path to law began with a degree in music.
"I played piano and sang all my life, so I thought that was a natural choice," said Beaty, who studied at the Indiana University Jacobs School of Music, one of the nation's leading music schools.
As the Atlanta native progressed in the program, she began dissecting why music intrigued her. She found a love for daily challenges, the application of specific skills, and the discovery of unique solutions to problems she encountered. In short, what she enjoyed most about music was analytical and research driven, and she immediately recognized the distinctive combination of skills—they were the skills her mother used every day as an attorney.
"I was always open to law as a career, but it was never at the forefront of my mind," said Beaty.
Beaty graduated with a bachelor's in music education and began applying to law schools nationwide. Emory was the first school she was admitted to, and it was a "gut decision" that led her to accept. She wasted no time getting involved. She knew that law school would pose a challenge and that community would be vital.
"The strength of the Black Law Students Association (BLSA) was definitely something that was a big draw for me," Beaty said, remarking that while every law school has a BLSA, Emory's stood apart from the rest.
BLSA offers community, career guidance, and workshops and study sessions with professors all with the goal of helping Black students on their way to becoming lawyers. The organization also gives members moot court and mock trial opportunities, experiences that aren't usually offered to first-year law students. Beaty is Emory's BLSA fundraising co-chair and recently was a standout volunteer during Emory 2O36 Giving Week.
"I came at that opportunity thinking that the most people could say to me was 'no.' I went all in and decided just to see what would happen," said Beaty, who ended the week inspiring 62 gifts—the most out of all peer-to-peer fundraising efforts. "Our alumni were very active in giving, supporting, and promoting. Every dollar counted."
Beaty looks toward her last year at Emory law with optimism. Recently, BLSA has begun outreach at local high schools, giving Black students exposure to law school early on. Beaty said, this is half of the battle.
"There's still work to be done, but even five to 10 years ago the conversation was how to get Black people to apply to law school. And while that's a worthy endeavor, I think people have realized that's not the whole battle," said Beaty. "What we at BLSA realize is the foundation lies in getting Black people to succeed at college. We're doing that by providing a foundation of exposure, mentorship, and experiences. I'm a prime example of this. If I hadn't had exposure to law at such a young age, law wouldn't have been an immediate career choice for me. Letting people know that those opportunities exist for them—that's the battle we're choosing to fight."
Alumni reflections: Being Black at Emory
Three alumni talk about the Caucus of Emory Black Alumni, being Black at Emory, and how the university helped shape them into who they are today.
Introducing the Southeast's first African American studies PhD program
"I couldn't be more excited or more proud that we are launching our African American studies PhD program," says Carla Freeman, interim dean of Emory College of Arts and Sciences. "Our faculty have invested years of strategic planning, imagination, and bold ambition to develop the curriculum and recruit top scholar-teachers working across the humanities and social sciences in this vibrant, interdisciplinary field."
Read more