Project Snapshot: National Volunteer Week
A look into National Volunteer Week 
During National Volunteer Week, nearly 200 members of the Emory community worked to make their communities better for all. Below are a few of the projects that were part of this year's Emory Cares outreach.
Emily Wiggins 18PH has always found ways to get involved with her community. This year for National Volunteer Week, she knew leading a clean-up at Rock Creek Park in Washington, D.C, was how she wanted to give back.
"One personal mantra I live by is 'repair the world,' so I try to lend a helping hand where it seems most necessary," she said.
For Wiggins, volunteering is a source of pride, but it's also a way for her to ingrain herself within a community. "The pandemic has really driven home the importance of connecting with and helping others."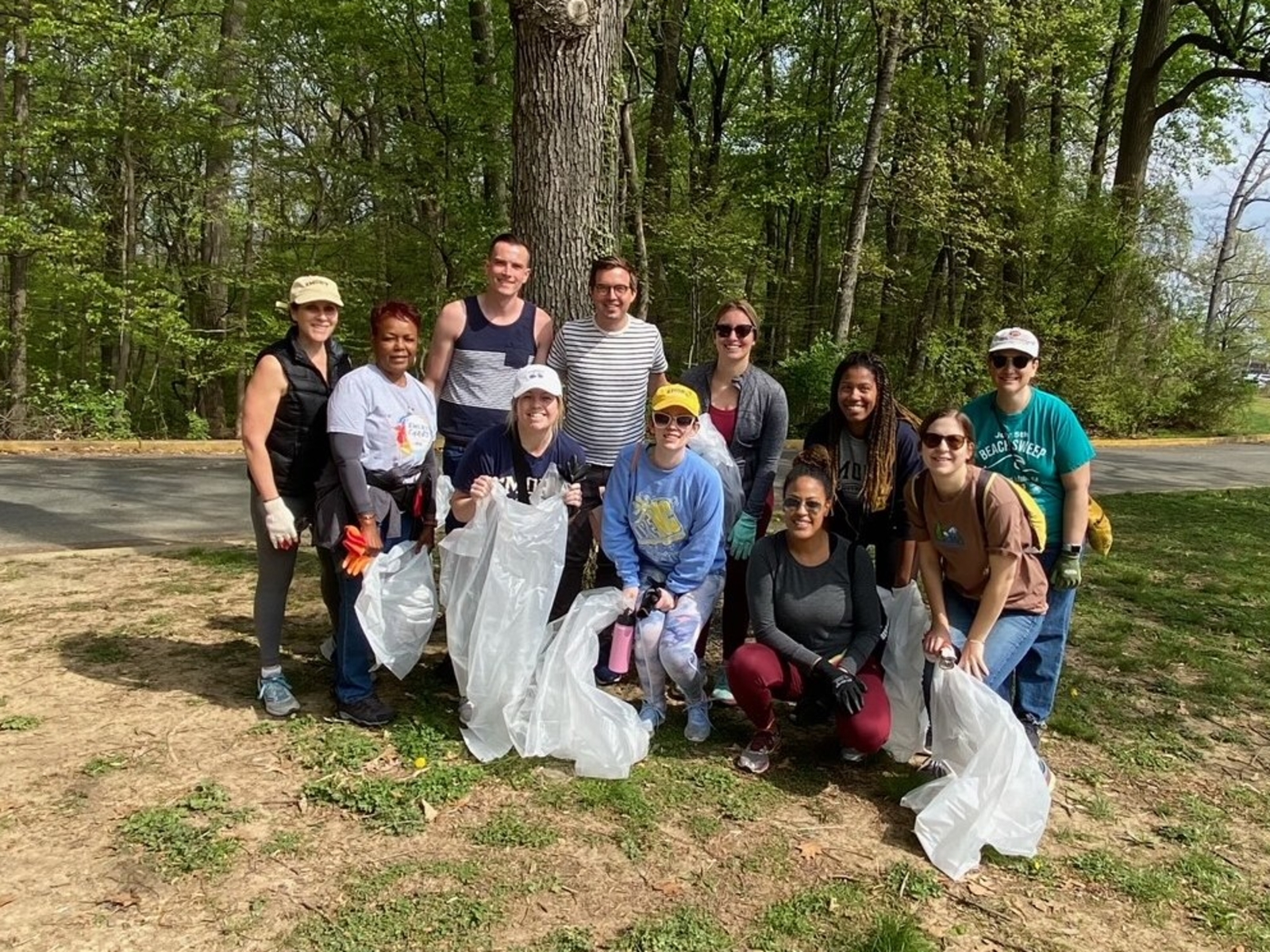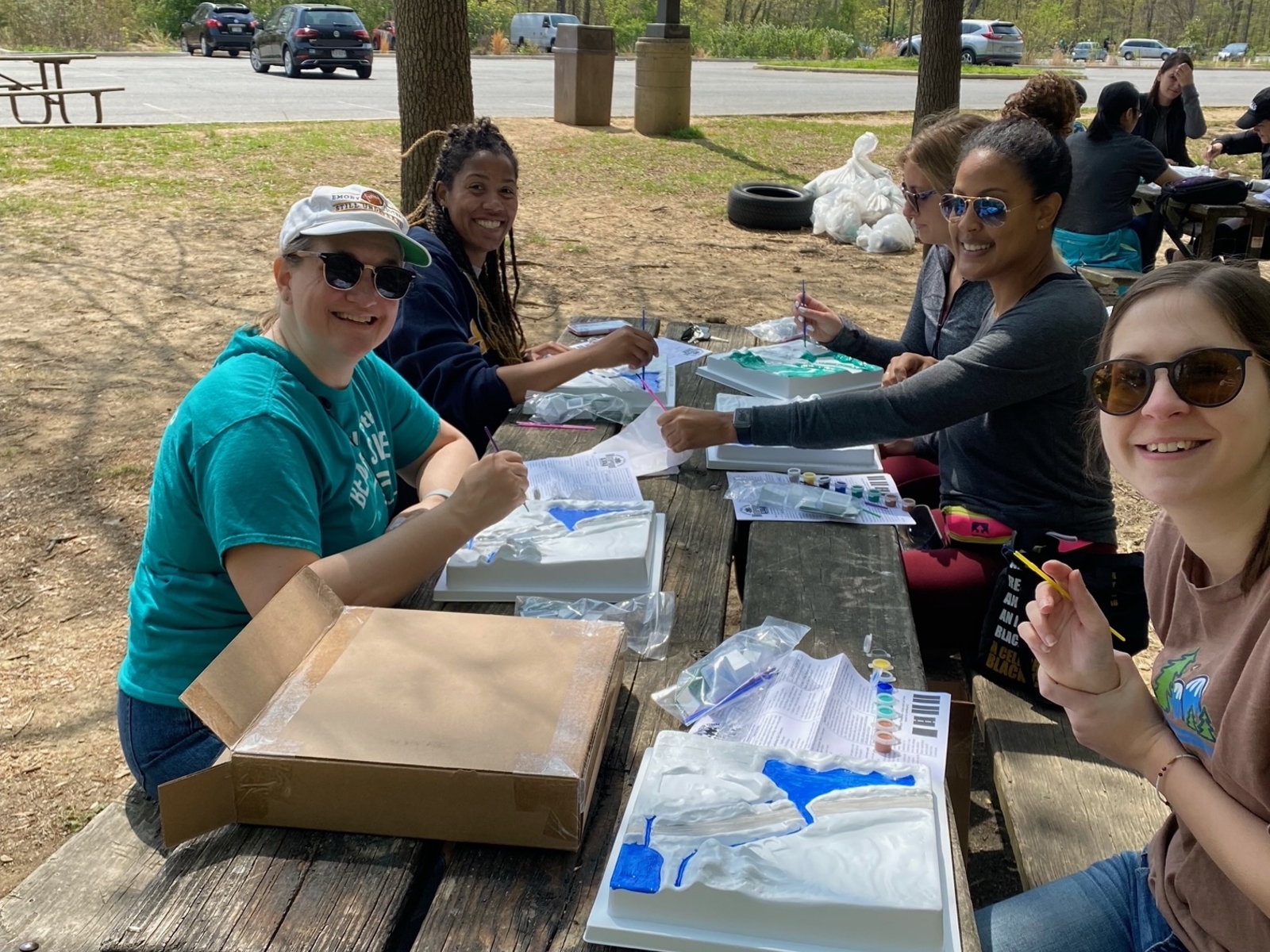 Wiggins is no stranger to Emory Cares. She's lead projects in the past, and since moving to Washington, DC, in the past year, Rock Creek Park has become her respite from the bustling city. Rock Creek, administered by the U.S. National Park Service, is a 1,754-acre city park with more than 32 miles of hiking trails. It was established in 1890, making it the third national park to be designated by the federal government.
"April was Earth Month, so it seemed like a perfect opportunity to get outside and help maintain one of DC's most prized gems," Wiggins said.
"Emory Cares is important to me because it both allows me to get involved in the community and reminds me that my learning experiences didn't end when I left Emory."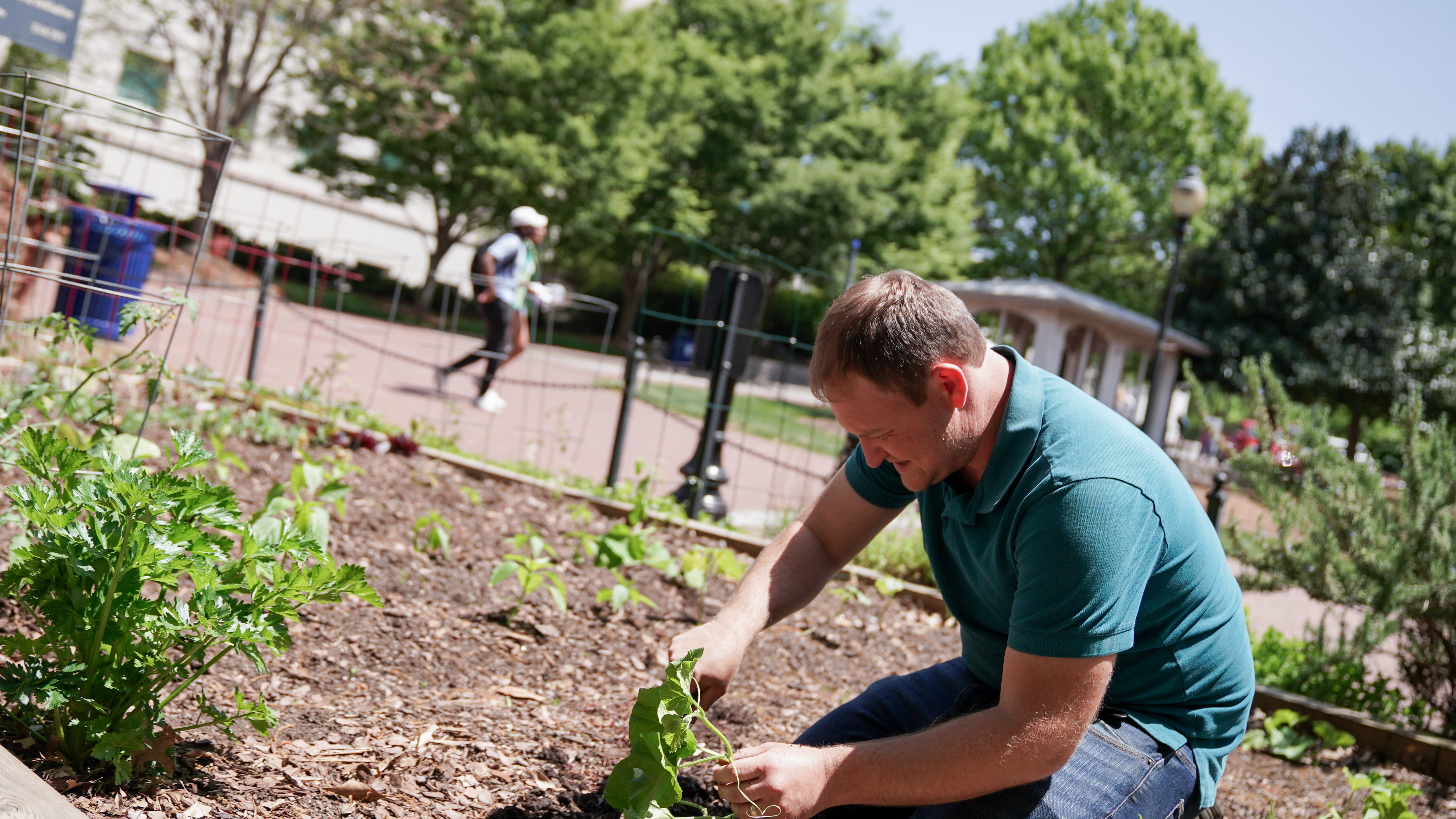 Seven Educational Gardens are nestled in the pockets of greenery throughout Emory's campus. Educational Gardens Coordinator Erik Edwards is the first person you will likely see when visiting one of these locations. This year, he hosted an Emory Cares project with a workday at the Cox Hall Garden.
"We provide a great outlet for students and members of the community to relieve stress while interacting with nature and the food supply chain. It allows our volunteers the opportunity to grow and take home produce they normally wouldn't be able to while giving all the excess to Atlanta area food banks," said Edwards.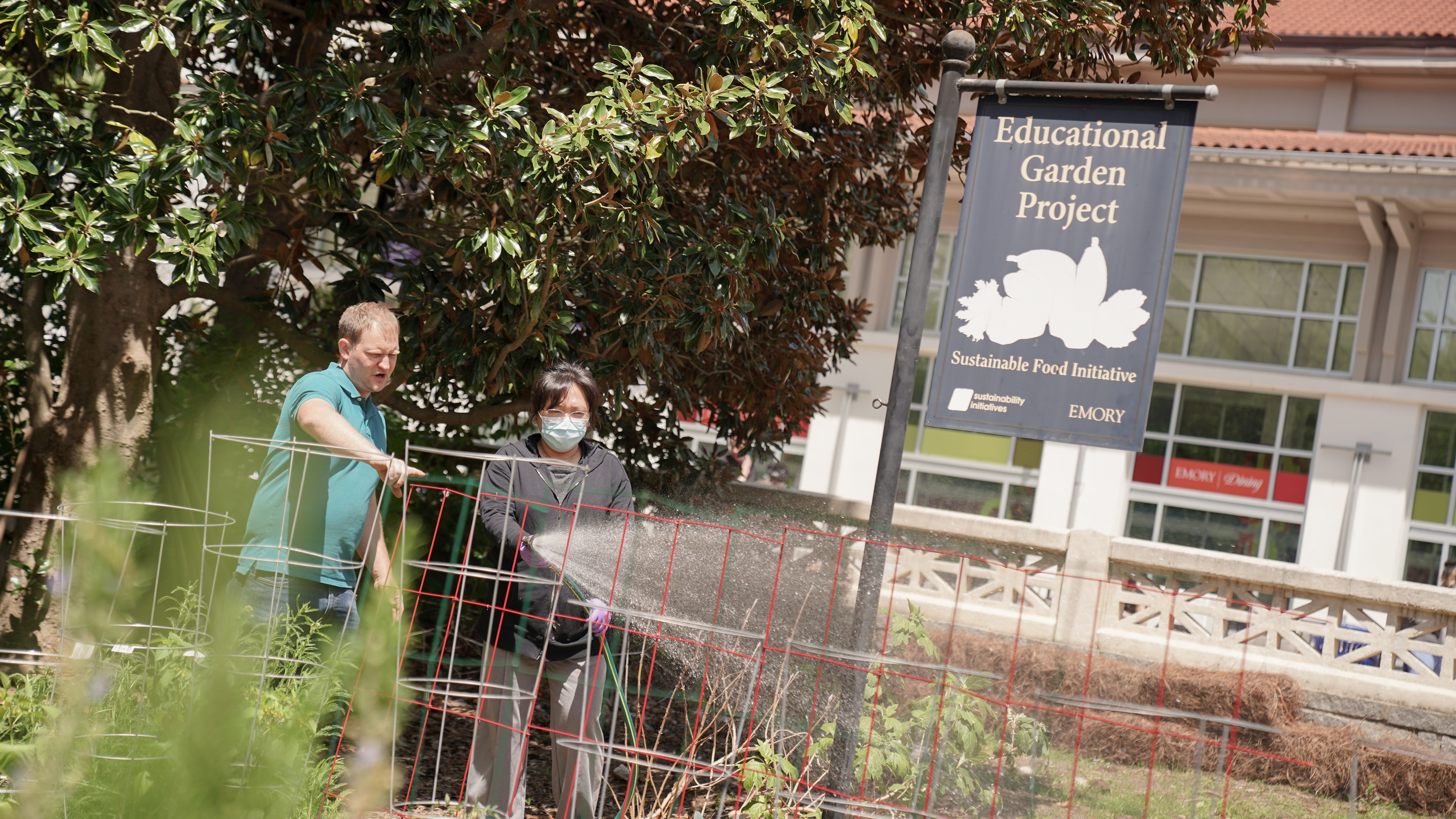 During the workday, volunteers helped prepare a section of the garden for the future planting of blueberry bushes. "By doing this, we aren't just beautifying a section of campus but providing a food resource for all of the creatures that roam Emory's campus, which includes the people," Edwards said. This was the first time Edwards hosted a project with Emory Cares. He sees it as a chance to interact with the alumni community.
"Emory Cares gives us an opportunity to engage with Emory outside of our normal working relationships. We also can interact with other members of the Emory community we normally would not have a chance to interact with."
Less than two miles from the Mercedes-Benz Stadium in the center of Atlanta, there's a small urban farm with the goal of using food as a bridge between cultures.
"The Truly Living Well Center for Urban Agriculture represents values that are important to me and to the Emory Alumni Environmental Network," said Amy Hou 15Ox 17C, who lead a project at the farm during National Volunteer Week.
"Sustainability is about more than just environmental protection; it's also about environmental justice and ensuring that climate change and pollution don't disproportionately impact low-income communities and communities of color."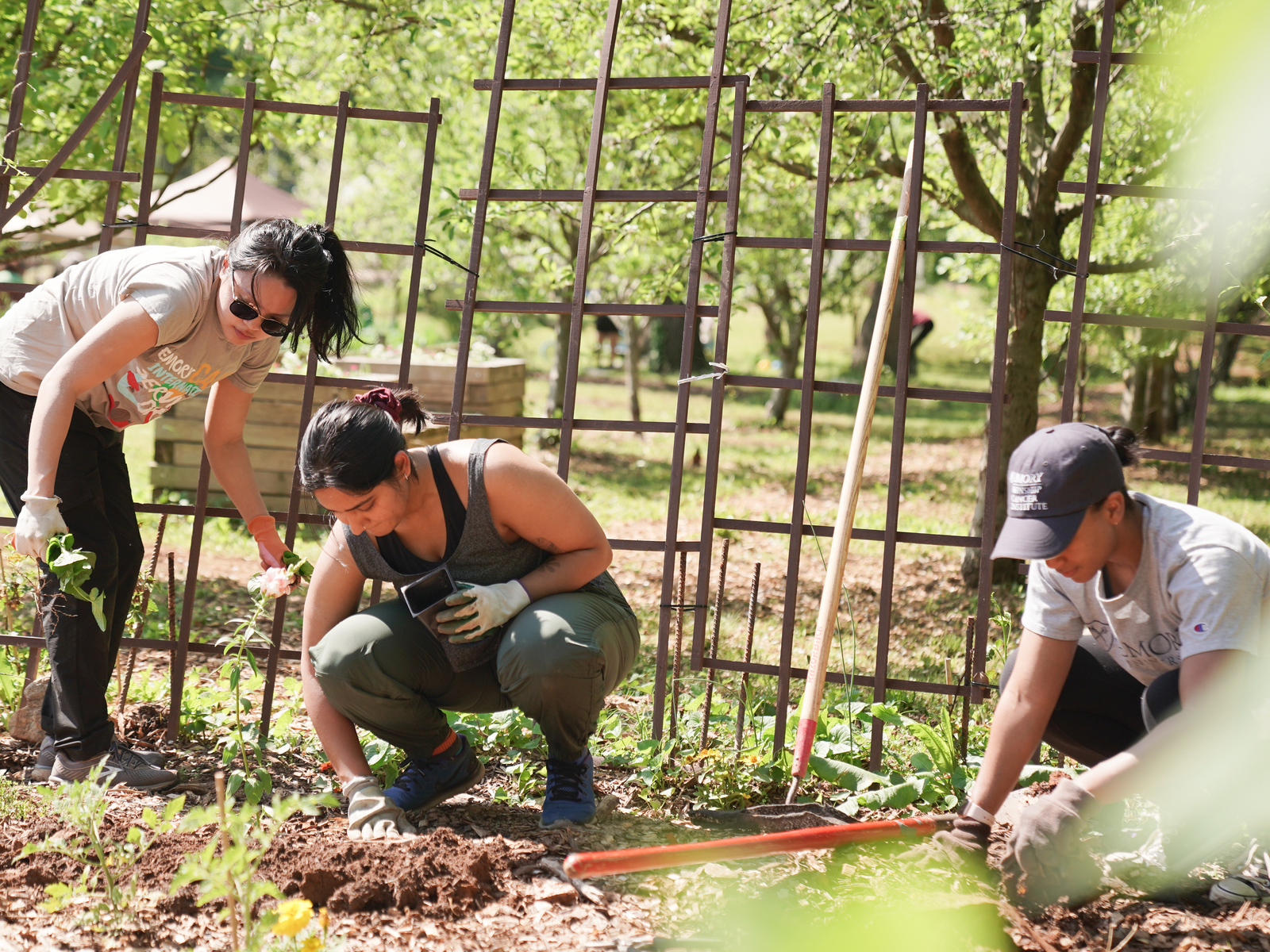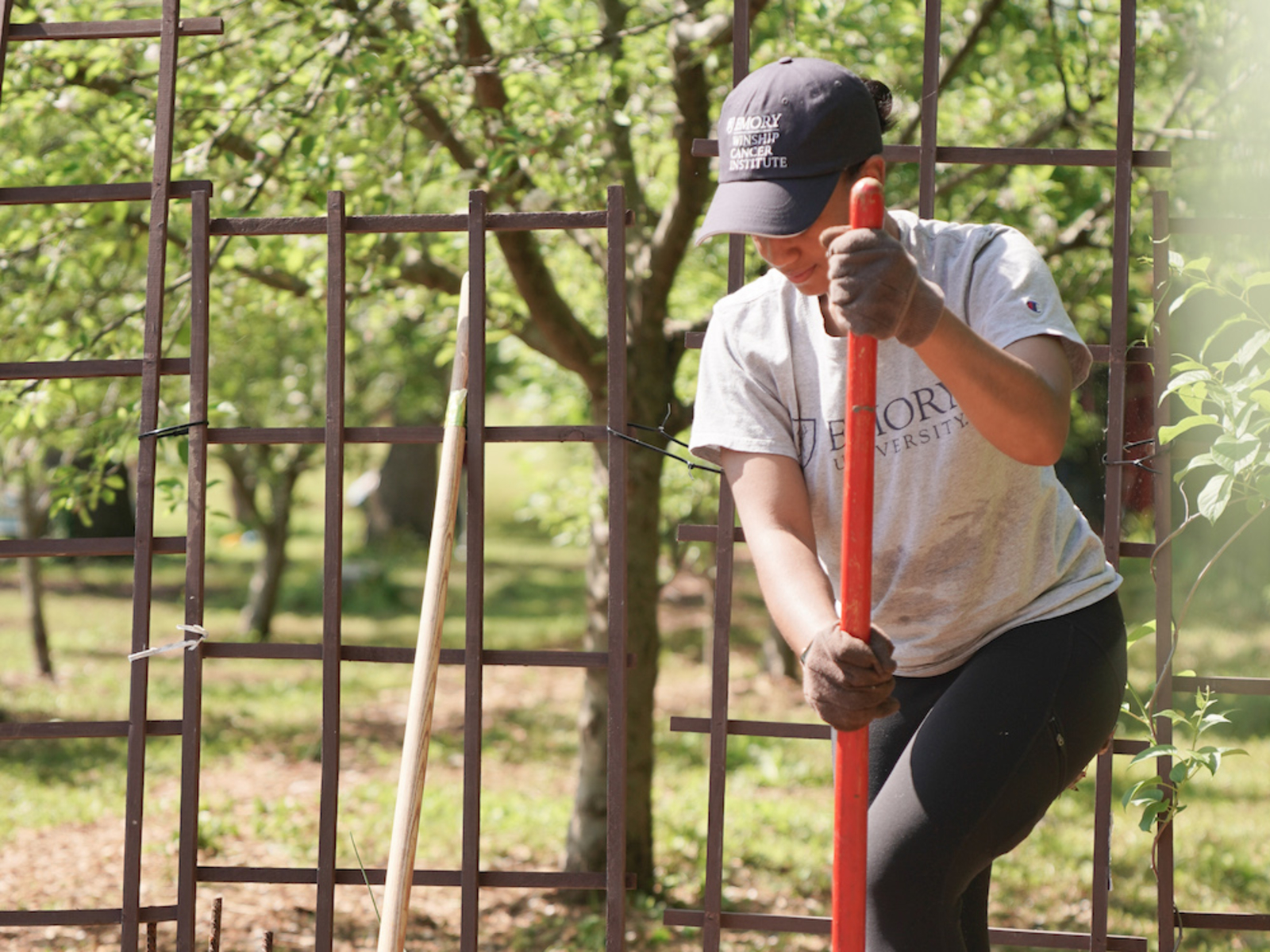 Truly Living Well Center for Natural Urban Agriculture was established in 2006. The motivation was to provide a dependable source of fresh produce and connect the surrounding community with the land through education and training. The farm site produces fruit, vegetables, herbs, and flowers. The organization leans on the knowledge that the urbanization of the world means bringing farming to cities isn't just a good idea—it's vital.
"I gained a lot from my time at Emory. It's where I made lifelong friendships and learned how to turn my passion for sustainability into a career," Hou said. "Programs like Emory Cares allow me to stay engaged with the Emory community, continue to make new connections, and put sustainable values into practice."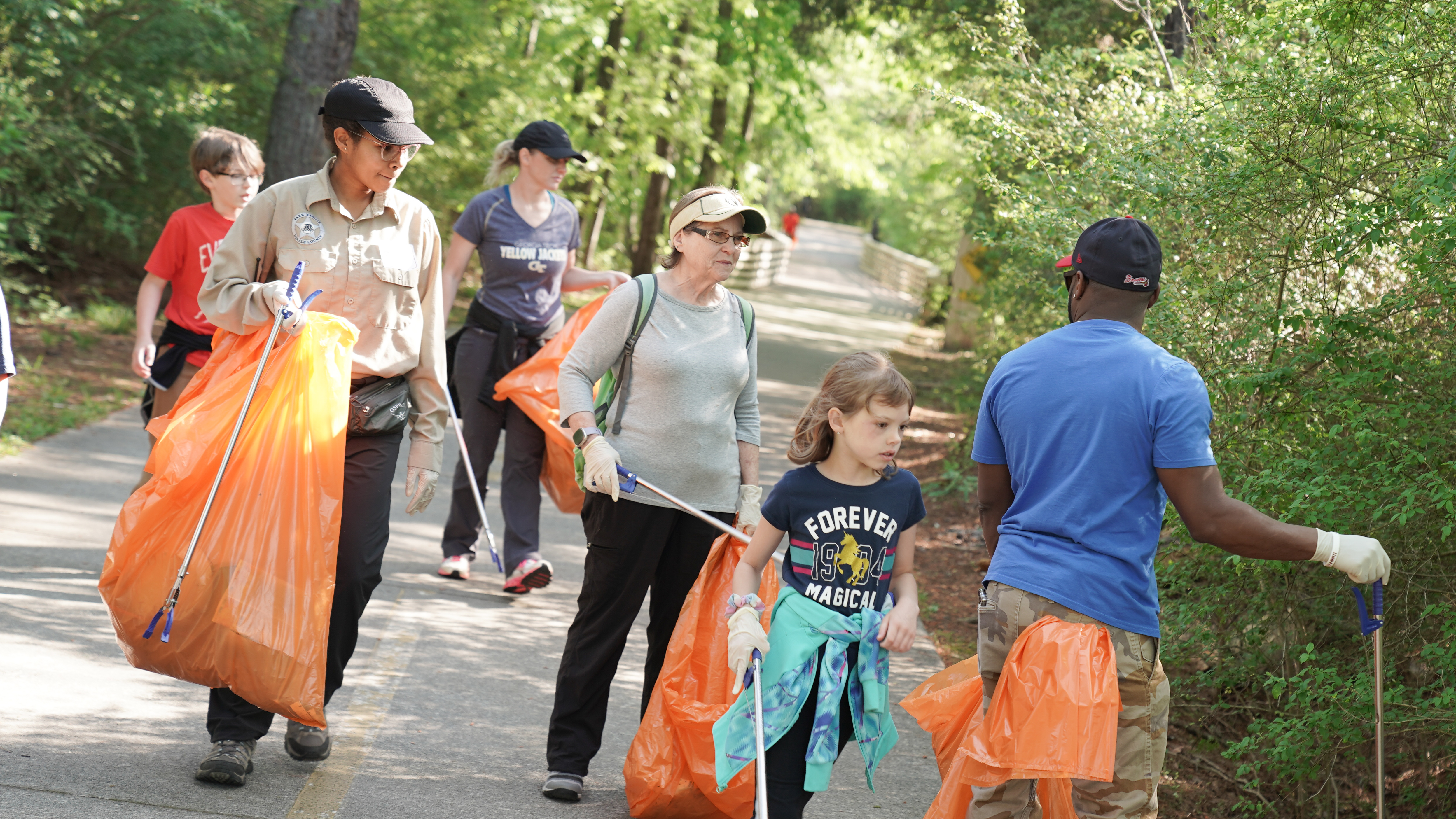 During an early Saturday morning on April 23, Zana Pouncey 16C began picking up debris along Klondike Road. The stretch of path is part of Arabia Mountain National Heritage Area, a 40,000-acre landscape known for historic sites and breathtaking greenspace and administered by the Arabia Mountain Heritage Area Alliance.
"Keeping our greenspaces clean helps preserve them for not only our benefit, but for the benefit of the plants and animals that call them home as well," said Pouncey. "Arabia in particular has lots of native and rare, endangered plant species living here. I'm passionate about environmental conservation and am super excited about this project."
The area has more than 30 miles of paved walking and biking trails and 6.5 miles of soft trails at Panola Mountain State Park. It also features the Flat Rock Archives, which details the history of one of the oldest African American communities in Georgia.
Pouncey has always prioritized community outreach. She first volunteered with Emory Cares during her freshman year on the annual MLK Day of Service. Now as an active alumna, she still looks for moments to give her time. 
"There are so many amazing people and organizations in Atlanta doing really important work to help improve the overall health of the city, and being engaged and active through volunteer programs like Emory Cares helps spread that impact a little further."